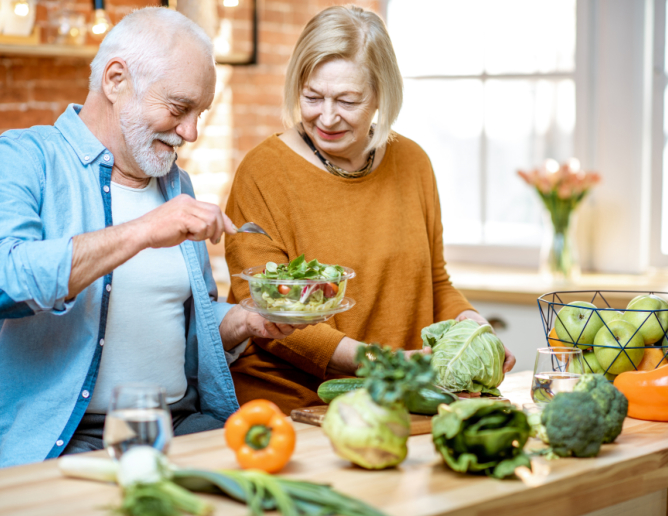 Diabetes is a common disease that affects many aging adults with symptoms that range from mild to severe. When a senior loved one is diagnosed with diabetes, it's best to take steps to manage their condition. As a provider of home care and medical social service, we will share healthy living tips for older adults with diabetes:
Commit to a balanced diet.

A balanced diet includes a wide variety of healthy foods. In general, meals should be high-fiber and contain low levels of saturated fats, added sugar, and salt. With personal care in Virginia, a caregiver can help seniors maintain a balanced diet. This will help them maintain general good health and better manage their blood glucose levels.

Stay physically active.

Regular exercise is one of the best tools for managing diabetes. Seniors with diabetes should stay active most days of the week. Exercise does not necessarily entail going to the gym. Seniors can stay active by engaging in physical hobbies like gardening or doing household tasks.

Learn to manage stress.

High levels of stress hormones may prevent insulin-producing cells in the pancreas from working properly. Seniors can manage stress with activities like yoga and meditation. A provider of home care in Woodbridge, Virginia can assist with daily tasks to take the stress of chores and home upkeep too.

Take medications as prescribed.

Your healthcare provider may recommend certain medications to manage diabetes. Make sure to take the medication as prescribed and get your medicines refilled on time. Proper medication management is essential to promote optimal results.
Arrange in-home care with OptimumCare Home Care Services. We offer a wide range of services like safety supervision and speech therapy in McLean, Virginia to meet your care needs.
Disclaimer
Blogs, content, and other media uploaded online are for informational purposes only. Contents on this website should not be considered medical advice. Readers are strongly encouraged to visit their physician for health-related issues.