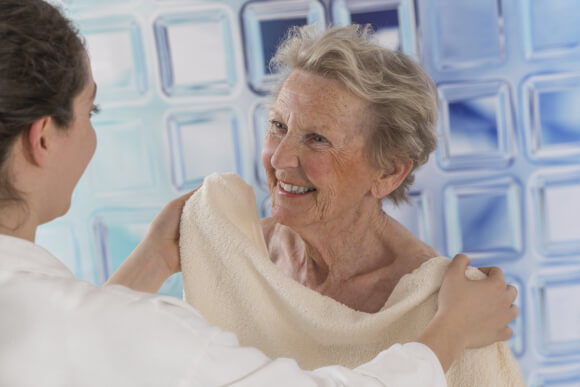 When your loved ones enter their late golden years, trips to the hospital or clinic may become more frequent. They will be requiring procedures, therapy, and medical assistance—all of which are vital in maintaining their health. Because of these needs, many may choose to place their elderly loved ones in retirement homes or shared residential facilities so that they will be able to receive the care and assistance they need. It's no surprise, however, that a lot of senior individuals would prefer to stay in the comforts of their homes. Fortunately, with in-home skilled nursing in McLean, Virginia, that preference is not only realistic but will also prove to be more convenient.
In-home caregivers can provide the needed help and assistance when it comes to activities of daily life—from personal tasks such as bathing, grooming, toileting, and meal preparation, to homemaking tasks like light household chores and errands. However, if your senior loved one requires medical observation, therapy, and assistance on a daily level, then it would be best to employ the services of a skilled nurse.
Skilled nurses, or home health nurses, are educated, certified, licensed, and trained healthcare professionals. They are usually registered nurses (RN) or licensed practical nurses (LPN) who are certified to provide skilled nursing attention and care to patients in the comfort of their own homes.
These skilled nurses are qualified to administer medications and injections, as well as monitor and provide medical treatment and long-term care that are vital to patients with various health conditions, such as diabetes, chronic heart disease, and others. Depending on the medical condition of your elderly loved ones, a skilled nurse can administer the needed medication—may it be through pills, injections, or intravenous—check-up and monitor on the patient's condition, as well as provide more complicated therapies in accordance to a treatment or maintenance plan provided by a physician. In addition, skilled nurses can also help with various day-to-day activities, such as eating, bathing, dressing, and toileting.
Skilled nurses truly are wonders in geriatric and patient care, especially because they are able to provide the needed services right in the comforts of one's home. If you opt for home care service in Woodbridge, Virginia for your senior loved ones, it is important to have the right skilled nurse or caregiver for the job—one who will be able to provide quality care.
OptimumCare Home Care Services offers a wide range of medical and non-medical home care services, from skilled nursing, occupational therapy, and physical therapy, to personal care, homemaking services, and companion services in Fredericksburg, Virginia.
Our skilled nurses are licensed and registered, have undergone extensive training, and are well-equipped to be able to provide your loved ones the services they need. From services like anti-coagulation therapy and infusion therapy to different kinds of personal and medical care, such as diabetic, post-surgery, and urinary catheter care, our skilled nurses are capable of giving proper, safe, and efficient care.