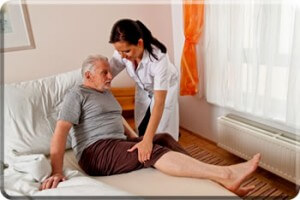 No matter what your age, needing to rely on someone to help you with personal care is not easy. There are a variety of reasons why you might have difficulty getting dressed, taking a shower or managing any number of medical accessories given to you after surgery. Trained home health care providers offer assistance to elders and disabled loved ones in a professional and dignified manner, making it a bit easier to manage during daily routines.
No one wants to feel limited within the home, but there often comes a time when some assistance is required to keep up with hygiene or to eat a balanced diet. In addition to providing assistance to a loved one in the home, personal care services also provide a sense of safety and well-being to the elder and the surrounding family. As a care giver, it's nearly impossible for you to be around at all times, helping your grandmother or aunt with showering and dressing – hiring a professional home health care provider ensures that your loved one never has to go without taking care of their needs because no one is there to help.
That's not to say that only those who are unable to live alone are ideal patients for personal care services! Your loved one might be completely independent and living alone, but they can't manage up and down the stairs multiple times like they used to when doing laundry or can't safely get in and out of the tub during daily bathing. Personal care services are tailored to each patient, ensuring that the care and attention is applied where it's needed the most.
Another way personal care services benefit the life of a loved one is through meal planning and preparation. When you live alone, it's easy to get into a rut of preparing the same meal time and time again or relying heavily on prepackaged convenience foods – neither of which are healthy for anyone, let alone an elder who needs the added nutrients and vitamins. Personal care services are trained to understand senior nutrition in order to assist with meal planning and preparation – in addition to shopping, storing and cooking food. If your loved one has a doctor-ordered meal plan, home health care providers can ensure your family member is following it and staying healthy.
Personal care services are more than just monitoring your loved one's hygiene – it's about enhancing the quality of life for them when you can be there to help!