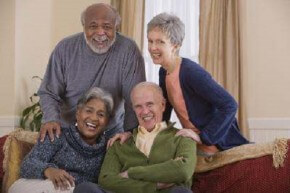 We love food – it's one of the most important factors of our daily life and something we sometimes take for granted! However, when you're busy or don't know what to make, what do you do? Do you order in or grab a meal through the drive-thru? When you're responsible for your own meals as an adult, you likely don't pay much attention to the nutritional factor – but when you're a senior, the type of food you eat is essential for staying healthy and keep blood pressure and blood sugar at optimal levels.
Senior citizens have more to worry about when it comes to food. For example, if they are used to preparing large amounts of food for family over decades, trying to figure out how to make one meal at a time is hard. In addition, the food budget might be very strict, preventing mom or dad from choosing wholesome, nutrient-rich foods. Just like we need to avoid empty calories, it's easy for seniors to opt for the convenient foods – items that are often filled with empty calories and too much sodium, fat and other unhealthy additives. Is mom or dad limited when it comes to shopping or finding transportation to the grocery store? Does mom have trouble making her way around the kitchen or is dad clueless in how to make dishes because he spent most of his life being cared for by mom?
Home health care services provide help in many different aspects of your loved one's life – including meal preparation. This service alone does wonders to alleviate your worry that mom or dad isn't getting the proper nutrition. Professional health care staff creates personalized plans that take needs into consideration and helps provide balanced, nutritious meals to your loved one. Does dad need to eat a heart-healthy diet to manage his blood pressure? Does grandma need to follow a diabetic eating plan? Our experienced experts work with doctors to ensure every patient is eating wholesome, nutritious meals throughout the day.
Meal preparation services do more than just make meal plans, too. Additional features of the service include monitoring liquid and food intake, prompting scheduled eating, cutting coupons, following recipes and even grocery shopping. It's easy for your loved one to neglect preparing wholesome meals – our meal preparation services ensure that mom or dad is getting the nutrition they need to thrive physically and mentally.