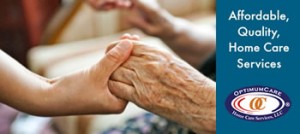 The trend in aging today is focused on aging in place, or aging at home rather than nursing homes. Maintaining mobility and independence is the foundation of living at home as long as possible. Reducing fall risk, supervision with medications and nutrition, and helping loved ones meet activities of daily living are the focus of OptimumCare Home Care Services. We know and understand that you or a loved one wants to remain in your own home as long as possible and our home care services focus on doing just that.
Maintaining or improving independence means ensuring that you or a loved one has adequate access to well-balanced and nutritious meals, a safe home environment, social interaction, and physical safety. OptimumCare Home Care Services provide a wide range of options for those aging in place and enhanced peace of mind for family members who may be worried about their loved one's safety. Our staff is trained, experienced and knowledgeable regarding the physical, mental, and emotional needs of seniors in home environments.
Home care services provided by our caregivers include but are not limited to meal oversight and preparation, geriatric assessment and evaluation, safety supervision, transfer assistance, transportation assistance, and a wide range of medical and non-medical care needs. From light housekeeping to personal care and companionship services, OptimumCare Home Care Services is here to help.
Whether a loved one needs assistance and support for a few hours a day or round-the-clock, we provide compassionate individuals to help meet those needs. If you're struggling to balance personal, financial and family responsibilities and obligations with a loved one who may require supervision due to cognitive decline, recovery from surgery, or dealing with the chronic long-term illness, OptimumCare Home Care Services wants you to know that you're not alone and that you can rely on our staff and professional services to ensure that you or your loved one receives quality care.
It's not easy to trust strangers to come into a home and provide care for a loved one. That's why OptimumCare Home Care Services meets with families and establishes the needs of potential care recipients first. We want you to get to know us and we want to get to know you. We're a family owned business and treat our clients like family. We want to provide you with the peace of mind and security that you deserve. Working together, we can ensure that you or a loved one is safe, well cared for, and has access to services that enhance independence, mobility, and quality of life at home