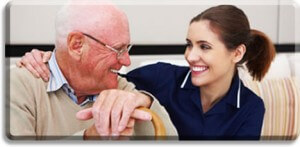 For the first time in quite a while, you've managed to get away from work, schedule a vacation, and visit mom or dad over the holidays. Like many adult children, you look forward to going home for holiday visits and expect things to be the way they always were. Nothing can be more surprising, or alarming, than discovering that things are not as you had presumed.
What do you do if you walk in mom or dad's house after a long absence and realize that there's no food in the refrigerator? Imagine your surprise if you walked in and found the house so cluttered that you realize that everywhere you turn there's a fall risk or an accident waiting to happen? Laundry hasn't been washed in some time, and mom or dad is wearing dirty, food stained clothes…
It happens more often then we'd like to think. That's why OptimumCare Home Care Services provides a variety of solutions for in-home care services. We know that most of our elderly loved ones don't want to be a burden to anyone, and when asked how things are going, will most often reply, "Everything is fine, I don't need anything." Meanwhile, mom hasn't had a warm meal in days, or dad has missed several doctor appointments and isn't taking his pills because he can't get to this doctor's office or the pharmacy.
OptimumCare Home Care Services provides a variety of solutions and options for seniors and the disabled who don't have friends or family who can come check on them on a daily basis. When you realize that all isn't well, give us a call. Our services range from companionship to transportation, meal planning, light housekeeping, and more. We can arrange for visits that last several hours to 24-hour round-the-clock care. We can come once a week, or every day. It's up to you and what you feel is needed for the optimal health and wellness, as well as security and peace of mind for not only your loved ones, but family members.
We all want to ensure that our loved ones are safe, healthy, and secure, especially as they grow older. However, we also have our own sets of responsibilities and obligations. When you can't be there, we can. So whether it's a holiday season or any other time of the year, ensure that your loved ones are being cared for. OptimumCare Home Care Services is dedicated to doing just that.