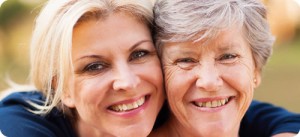 Today, you're likely to find more senior caregivers providing the burden or brunt of care for aging loved ones. That's because changes in healthcare have encouraged seniors, whenever possible, to age in place, and to maintain independence as long as possible. That's great, but at OptimumCare Home Care Services , we also realized that the responsibility of providing support, companionship, and care to a loved one can be not only physically but also emotionally challenging. That's especially true for seniors caring for a senior spouse or parent.
You may want to provide that care, but your body may not be physically capable of providing the best of care for your loved one A senior caregiver has a number of obstacles and challenges to overcome in the provision of safe, effective, and quality care for a spouse or parent. Some of those challenges include time, training, and strength.
It's not difficult for a senior caregiver to hurt themselves providing care for loved one. Whether helping someone into or out of the bathtub, learning proper body positioning, and the prevention of decubitus ulcers or bedsores, or a few additional challenges, it can be tough. Dealing with the emotional and mental challenge of caring for a loved one with any form of dementia can lead to increased levels of stress, frustration, and sometimes, even illness for the caregiver.
Senior spouses or other family members are often willing to help provide care for a loved one, but it it's also important to know how to properly and safely transfer a disabled or weak individual from the wheelchair to the bed, vice versa, and how to properly support and prevent slips and falls when walking from one room to another. In caring for someone with dementia, including various stages of Alzheimer's, the disease progression eventually demands more focus, time, and prevention in reducing risks and hazardous situations than many can imagine.
You don't have to carry this burden alone. OptimumCare Home Care Services provides trained and experienced professional caregivers trained to provide care in a number of scenarios. At the same time, we focus on helping our clients maintain as much independence as possible, which leads to enhanced quality of life.
There is a saying, "the spirit is willing," and that certainly holds true for many senior caregivers providing nonprofessional care and oversight to an aging spouse or parent. However, sometimes the body doesn't want to cooperate. To prevent physical, mental and emotional exhaustion as well as reduce the risk of injury, senior caregivers are encouraged to seek additional help and services from home care agencies.