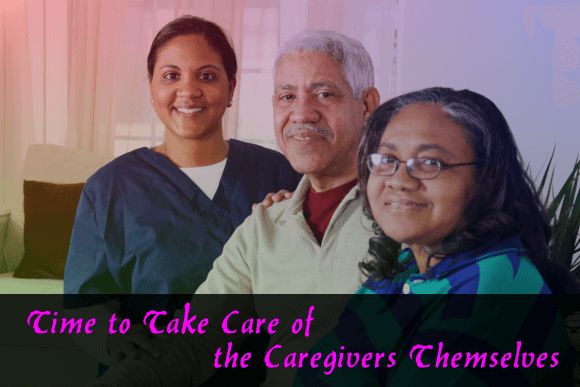 Who said caregivers don't need caregiving?
This question may have stemmed from the presumption that being the givers of care themselves, they don't need it?
The reverse is quite true. Caregivers need more of the care and support than many of us do.
Caregiving stands as one of the most stressful jobs there are. This is primarily because, unlike many other jobs, caregiving involves the whole being of the person when dispensing care to his or her ward. Taking care of an elderly, sick, injured or developmentally disabled entails physical, mental, emotional and psychological efforts.
Caregivers are humans, too, so it is normal for them to feel angry, depressed, tired, unhappy and alone.
Caregiver Stress
Yes, there is such a thing as caregiver stress. It is the emotional and physical stress brought about by the act of caregiving.
According to the website Mayo Clinic, people who experience caregiver stress can be vulnerable to changes in their own health. Risk factors for caregiver stress include:
Being female
Living with the person you are caring for
Social isolation
Having depression
Financial difficulties
Higher number of hours spent caregiving
Lack of coping skills and difficulty solving problems
Mayo Clinic further says, "As a caregiver, one may be so focused on her loved one or client that she doesn't realize that her own health and well-being are already suffering. Watch for these signs of caregiver stress:
Feeling overwhelmed or constantly worried
Feeling tired most of the time
Sleeping too much or too little
Gaining or losing a lot of weight
Becoming easily irritated or angry
Losing interest in activities you used to enjoy
Feeling sad
Having frequent headaches, bodily pain or other physical problems
Abusing alcohol or drugs, including prescription medications."
OptimumCare Home Care Services Looks After the Caregivers
Our firm OptimumCare Home Care Services, the all-encompassing non-medical home care in Opitz Boulevard Woodbridge VA, not only takes care of our patients. We do look after the caregivers of the patients, too. We know too well what they go through.
Our Family Respite Care is intended for that very purpose. Through this service, we offer current caregivers the chance to step back, spend time with family, take that much needed vacation, or to simply rejuvenate. It's important to take a break from caregiving once in a while in order to continue providing the best in mental, emotional and physical support of a loved one.
To all caregivers out there, we know that your job is an extremely stressful endeavor. Sometimes, you just need to step away from the situation and take a break. Don't feel guilty about that! At such times, we'll step in so that you can take that much needed break to recharge your batteries and rejuvenate your spirit. Doing so enables you to become a better caregiver for your loved one. Short-term respite care is a temporary option for those who need to focus on themselves or their families, not only to reduce the risk of injury and depression, but also to enjoy time with family or to take that well-deserved vacation. Give yourself a break. We'll step in and take care of your loved one so that you can take care of yourself.
It's our company's way of saying you are not in this alone. We are always with you when you need us.
And when that time that you will need us comes, you can always contact us in any of our three locations. Below are the contact details:
Headquarters
2200Opitz Boulevard, Suite 210 Woodbridge, VA 22192
Phone: 703-490-8003 Fax: 703-995-4585
McLean Office
8201 Greensboro Drive, Suite 300 McLean, VA 22102
Phone: 703-490-8003
Fredericksburg Office
2324 Plank Road, Fredericksburg, VA 22401
Phone: (540) 369-6802Fax: (540) 369-6793
We are active on Facebook, Twitter and LinkedIn. If you are a fan of the social media, you can always interact with us using these facilities.
Have you had any experience taking care of a loved one? What is it like? Please feel free to use the space below for your views.