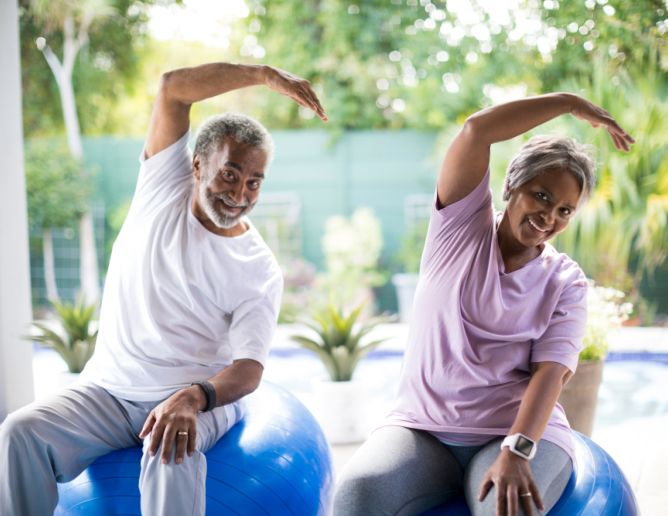 Mental health is a crucial component of your overall health. As we age, we experience changes in social connections, physical health, and daily routines that affect our mood and quality of life. In addition to receiving live-in home care in Virginia, there are other ways seniors can boost their mental health. Here are a few tips:
Make time for exercise.

Daily exercise promotes physical and mental health while helping relieve stress. Home exercise programs like yoga and stretching are good options for seniors with limited mobility. Regular walking and hobbies like birdwatching can also be good exercise options for seniors who enjoy the outdoors. With occupational therapy, seniors can undergo a personalized physical activity program to reach their fitness and mobility goals.

Maintain social connections.

A vital part of sound mental health is maintaining social connections with loved ones. In addition to companion care in Virginia, make time for connecting with others and keeping in touch with friends and family. Seniors can also join local organizations like social clubs or get involved in volunteer activities to support a feeling of belonging and community.

Pursue hobbies and interests.

Hobbies are excellent ways to spend your time and alleviate stress. These activities can also have a social element to them to ease loneliness and delay cognitive decline. Great examples of hobbies seniors can participate in include dancing, cooking, photography, reading, and playing board or card games.
Receive high-quality care with OptimumCare Home Care Services – your go-to home care provider. We offer services like skilled nursing in Fredericksburg, Virginia to look after your loved one's care needs. Reach out to us for more details about our services.
Disclaimer
Blogs, content, and other media uploaded online are for informational purposes only. Contents on this website should not be considered medical advice. Readers are strongly encouraged to visit their physician for health-related issues.